24V Kids Ride On Car 2 Seaters 2x200W Electric Vehicle Toy Truck with Remote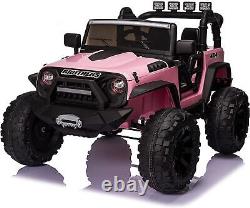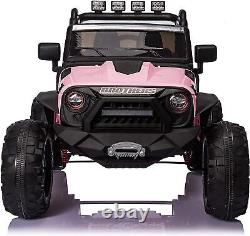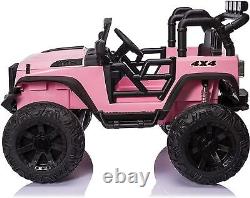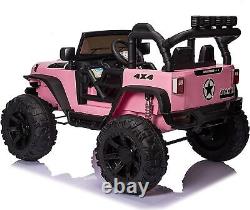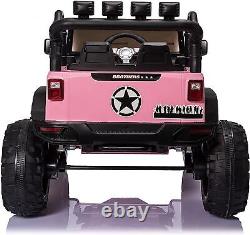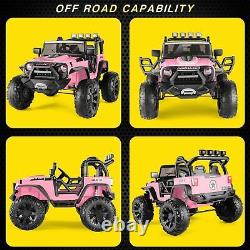 24V 2x200W 2 Seater Electric. Kids Ride On Truck Car w/Parent Remote Control, Spring Suspension, LED Lights, AUX Port. Lifelike Driving Experience: For a toddler who can't wait to get behind the wheel, this ride-on truck provides a great opportunity to understand the automotive mechanism and driving skills. The one-button-soft-starting technology, light-sensing electronic power steering, all-metal suspension, real foot pedal acceleration, light control, grid windshield for off-road style, and rearview mirror are all made for an easy, realistic, child-appropriate driving experience. Powerful 24V 200W Driving Motors: Equipped with an efficient and stable 24V rechargeable battery, our battery powered truck can provide a long play time after fully charged.
2PCS 200W powerful driving motors, and 14 large-sized wheels which features wear resistance and slip resistance make this kids ride on truck can be driven on different terrains, such as brick road, asphalt road, wood floor, plastic runway, etc. Providing good driving experience to your kids. 2-Seater Kids Ride-on Truck: Designed with 2 spacious extended two seats and enough cockpit space, this ride on car allows two kids aged 3-8 years to drive together, so that kids can keep kids in complete comfort throughout the drive. Meanwhile, this kids electric car is equipped with safety belt, intended to provide protection for kids. 4 wheels equipped with strong all-metal suspension system allowing to bear maximum load of 130 lbs.
Two Driving Modes: Children's car is equipped with soft-start button, anti-skid pedal, high speed and low speed options, which is easy for children to drive. The kids electric vehicle has a photosensitive electronic auxiliary steering wheel, which can help your child save energy when turning the steering wheel. If your child is too young to drive an electric car, parents can use the 2.4Ghz wireless remote control to override the child's control to avoid potential dangers. (can control the forward, backward, left, and right steering, "P" is the emergency brake button, "S" is the adjust button for three speeds). Multiple Functions Ride for Fun: All functions are centrally controlled.
The high-bright LED headlights and searchlights make the child feel super cool when driving at night. The ride on vehicle already assembled with built-in music, MP3, USB port, AUX port, designed to provide a great number of music and stories your kids prefer.
Security Configuration: Equipped with bright headlight and taillight, parent remote control, 2-point comfortable seatbelt, 2 lockable car doors, high chassis design, 4 anti-skid wheels with all-metal shock absorbers. Made of high-quality non-toxic PP material.
Conforms to ASTM F963 & CPSIA Children Product Certification. Safety for kids is the first principle of our design. Product size:123x88x80cm(48.4x34.6x31.5inch). Charge/Use time:charge 8-12h, use 1-2h.
Note: Children aged 12-42 months can sit with two people, and children aged 43-96 months can only sit with one person. Light-sensitive electron assisted steering wheel. R/C controls forward/backward and left/right, remote control priority. The toy is to be assembled by an adult.
In unassembled state contain potentially hazardous sharp points, sharp edges and small part, so please keep out of baby's reach. Children must drive this product accompanied by adults! Warning: Not to be used in traffic. Be sure to read the operating instructions and warnings in the manual carefully.